experience southern laos
OUR LOCAL EXPERIENCES
The experiences that we propose are all those unforgettable moments, spent in the heart of the Laotian villages, which will remain engraved in your memories.
You are invited to share the picturesque life of the villagers for a whole day or a few hours, and try some local specialities, ranging from unusual encounters, through various handicrafts, local dishes or drinks.
All activities are subject to availability and seasonality.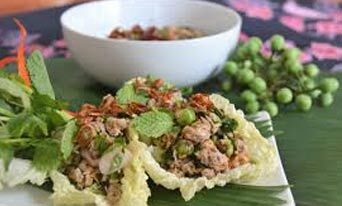 Lao Cooking Class:
Traditional Laap Salad
Laap or larb is a pillar of Lao cuisine and is considered by some as the unofficial national dish of Laos. Its variations are numerous, and it can be made with fish, meat, tofu, vegetables but also locusts, tiny freshwater shrimps or red ants!
Difficulty: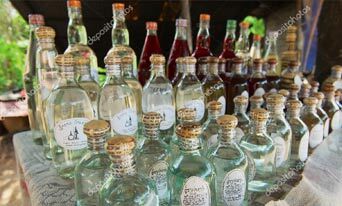 Production of "Lao Lao"
Rice Alcohol
There are two traditional alcohols in Laos: "Lao Lao" or rice alcohol and rice wine in jars, "Lao Hai". Rice alcohol is very popular, and you will notice it hanging in plastic bags in stalls along the roads. Inexpensive and very powerful…
Estimated time:
Around 3 hours
Difficulty: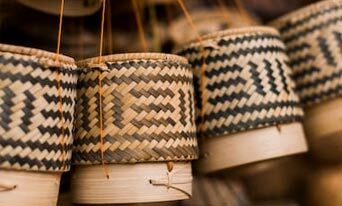 Making Woven Rattan
Rice Baskets
Making rice baskets or "kathip khao", is an economic activity that adds to the income of village families across Laos. Sticky rice "khao niao" is traditionally served in these pretty woven baskets whose size can vary from a small individual basket…
Difficulty: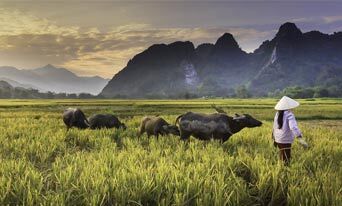 In Champasak, verdant rice fields are everywhere, and you will see them in each village and between each mountain. The rice fields are dotted with villagers wearing their typical triangular hats, bending over patiently planting rice barefoot.
Difficulty: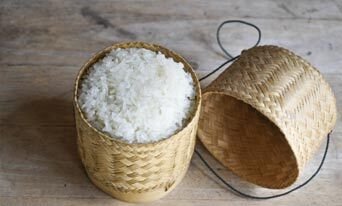 Cooking Green Rice
"Khao Mao"
During this cooking class, you will discover one of the many uses of sticky rice in Laos. The seeds called "khao mao" are those that have not yet matured and are harvested from young rice shoots. They are appreciated for their fragrance…
Difficulty: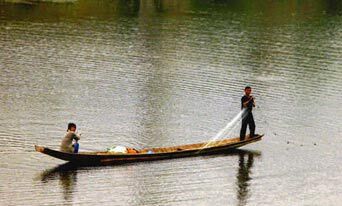 Fishing with Lao villagers
What could be better than time on the mystical Mekong river or the lake in Champasak to savour the soothing tranquility of southern Laos? Let your mind and the lush nature of Southeast Asia become one with the world's second largest ecosystem and one of the largest rivers in the world.
Estimated time:
As long as you wish
Difficulty: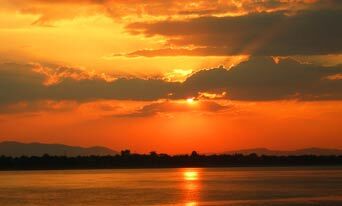 Sunset on the Mekong
by narrow boat
For a few hours, embark on a traditional wooden boat enjoying the soothing rhythm of the water and enjoy the flamboyant colours of the sky at the end of the day on the Mekong. Navigating this mystical river is an inescapable experience…
Difficulty: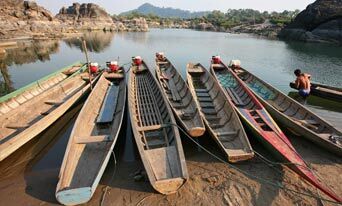 Discover the manufacturing process of a traditional wooden narrow boat
Learning how the traditional wooden narrow boats are made will interest all visitors but especially DIY enthusiasts and is also an opportunity to spend time in one of the beautiful, local villages…
Difficulty: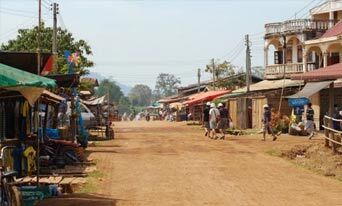 Explore the picturesque village of Ban Hai by bicycle
The picturesque village of Ban Hai nestled between impressive mountains, green rice fields and bamboo forests, is just 4 km from our hotel.
You will cycle to take full advantage of this pedestrian village that has the special charm…
Difficulty: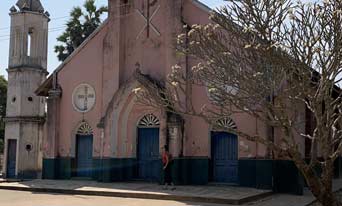 Visit villages where lepers are treated
Often a taboo subject and with so little known, sufferers of leprosy are stigmatized even though it still affects thousands of people around the world. In Laos itself, new cases of this chronic disease are identified each year, but care is difficult to find, and victims…
Difficulty: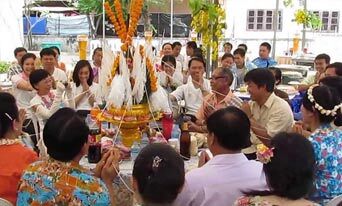 Participate in a traditional Baci Ceremony
"Let evil spirits leave and good spirits enter"
In Lao, animist beliefs are still held and part of their beliefs is that the human body is composed of 32 spirits or "khouan" that protect the different parts of the body and your soul.
Difficulty: