World Heritage Site by UNESCO
West bank
Residence Bassac is located in the attractive, small town of Champasak.
Once known as Bassac, from which our hotel takes its name, the town has a unique character and comprises nine villages.

Location
Ban Vat Armat, Champasak,
Champasak Province, Lao PDR
southern laos
When you visit Champasak, your pleasure starts along the roads that lead to the town.
Sitting 30 kilometres from the provincial capital of Pakse, Champasak can be reached along both banks of the Mekong or by the river itself and the ideal way to visit is to mix the pleasures along the way.
Indulge in discovering the sumptuous landscapes, traditional villages and cultural sites of the area. Renting a quality bicycle will appeal to travelers with no fixed timetable, a motorbike will appeal to the more adventurous, and a minibus offers comfort and relaxation for those who prefer to travel in style.
Following the west bank of the Mekong from Pakse is the quickest way to reach our hotel with a drive of around 40 minutes.
The road is flanked by breathtaking hillsides, many of which are considered sacred. The green rice fields are verdant nearly all-year round thanks to the ingenious irrigation system and the Mekong seems to play "hide & seek" with the road.
Just after the impressive Japanese-built bridge that crosses the Mekong lies the famous Golden Buddha temple of Phou Salao that overlooks the river and surrounding countryside.
A little further on lies the lesser known temple of Wat Phou Gnoi which also offers impressive panoramic views and exudes the serenity of Buddhist temples. It's possible to walk to the top the site, through the forest, to reach the cliffs. Visitors not wanting to climb the 273 steps to Wat Phou Gnoi nor the steep stairs of Phou Salao can also take the road.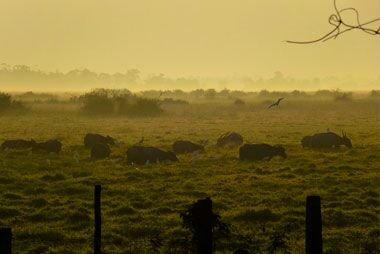 During your trip, try some of the seasonal, local specialities such as the intriguing tubers "Man Phao" which are incredibly refreshing and so a real treat in the heat of southrn Laos. The delicious Khao Lam with purple sticky rice and coconut, grilled in bamboo, is also a traditional Lao dessert.
Although the road is short, taking the time to fully enjoy it, at the slow pace of Lao life, is one of the pleasures of starting your journey to Champasak. After the toll booths between Pakse & Champasak, you can stop at the shops along the road, where you will find various wooden handicrafts and traditional rattan products.
some possible tours
Visit Champasak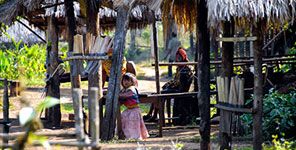 History & culture
Champasak is a charming, small town and a haven of peace whose tranquility contrasts with the noisy and dusty towns & cities of SE Asia.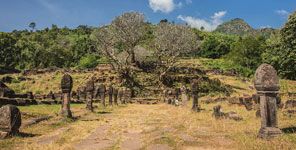 visit champasak
In Champasak, the villagers greet you with a broad smile and a "Sabaidee!" ("Hello!"), and your days will be punctuated by the parade of children in their uniforms going to & from school.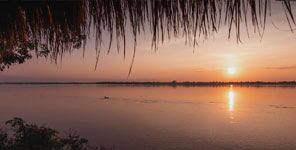 wat phou
By taking the main street on the right, continue for 10 kilometers to reach Wat Phou and the other ruins in the grounds. This famous temple of Wat Phou ("Temple of the Mountain")