experience southern laos
Traditional Rice Growing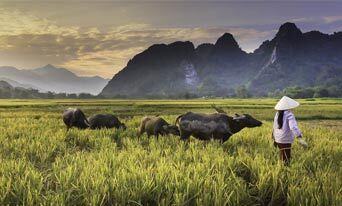 In Champasak, verdant rice fields are everywhere, and you will see them in each village and between each mountain. The rice fields are dotted with villagers wearing their typical triangular hats, bending over patiently planting rice barefoot.
Rice is the staple food of Laos and, in addition to being served at every meal, serves as a base for the preparation of noodles, desserts, and drinks of all kinds. Its culture however remains a mystery for many travellers, a mystery that you will have the opportunity to unravel during this afternoon of discovery. It is interesting to note that "to eat" translates in Lao to "khin khao" whose literal translation is "eating rice", and that a meal without rice is only "kin lin", or "play eating".
The rice crop takes about 6 months, and different stages can be observed depending on the season. In the more mountainous areas of Laos, farmers still practice so-called slash & burn rice farming, with land whose natural irrigation is subject to rainfall. Irrigated rice cultivation is therefore favored both for its yield and for the stability it offers to rice farmers, but it is nonetheless an exercise demanding hard work in this region where farming is still almost entirely manual. Thanks to an ingenious irrigation system bringing water from the Mekong to the rice fields, the villagers of Champasak produce the rice several times a year, with a short fallow period. This gives this town the breathtaking visual appeal of a hinterland of green shades nestled between the mountains and the Mekong.
For this activity, you will meet farmers in the beautiful village of Ban Phaphin, and they will explain each step, from the selection of rice grains, the ploughing of fields, through to the harvest using a sickle. If you wish and the season allows, you will be invited to lend a hand, and the farmers will teach you how to handle traditional instruments and plant rice shoots one at a time. In addition to better understanding this traditional farming method, it is by doing it yourself that you will discover an activity creates admiration of Lao farmers determination and patience make up for the lack of modern technologies.
Estimated time: 3 hours
Note: The activity is available throughout the year but sharing the rice planting is only possible in May & December and the harvest in October & March.