World Heritage Site by UNESCO
The Mekong river
Residence Bassac is located in the attractive, small town of Champasak.
Once known as Bassac, from which our hotel takes its name, the town has a unique character and comprises nine villages.

Location
Ban Vat Armat, Champasak,
Champasak Province, Lao PDR
southern laos
Down the river
It is also possible to go to Champasak by boat from Pakse, as a group, by private boat or by a multi-day cruise.
Whatever your preference, it will be a unique experience on the mystical Mekong river.
The cruise will plunge you back in time to when the long-tailed boat was the preferred means of transport for the local people.
Indeed, it was the main means of transport, before the construction of roads, to reach the various villages and places in the region, such as the 4,000 islands near to Champasak.
Even now, one of the biggest annual festivals in Laos, the Boun Song Huea (or the "Boat Festival") is organized in October, at the end of the rainy season.
Thousands of Lao gather in towns and villages to watch boat races on the Mekong and its many confluences.
some possible tours
Visit Champasak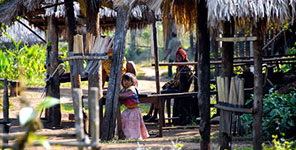 History & culture
Champasak is a charming, small town and a haven of peace whose tranquility contrasts with the noisy and dusty towns & cities of SE Asia.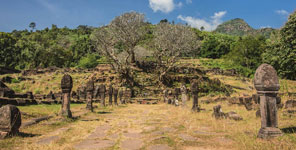 visit champasak
In Champasak, the villagers greet you with a broad smile and a "Sabaidee!" ("Hello!"), and your days will be punctuated by the parade of children in their uniforms going to & from school.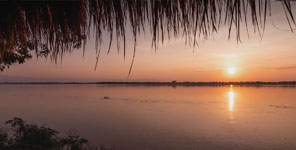 wat phou
By taking the main street on the right, continue for 10 kilometers to reach Wat Phou and the other ruins in the grounds. This famous temple of Wat Phou ("Temple of the Mountain")