THE TOWN OF CHAMPASAK
HISTORY
& CULTURE
Champasak is a charming, small town and a haven of peace whose tranquility contrasts with the noisy and dusty towns & cities of SE Asia.

Location
Ban Vat Armat, Champasak,
Champasak Province, Lao PDR
Kingdom of Lane Xang
The legacy of the past
You will be surprised by its cultural heritage, the richness of the local traditions and the unhurried pace of life. This makes it an essential stop on a trip to southern Laos. The wealth and beauty of Champasak are often underestimated by travelers who ignore its many secrets.
Champasak is the perfect place to fully immerse yourself in the slow pace of Laotian life and recharge your batteries along the soothing Mekong River.
The history of Champasak is a mixture of unearthed secrets, and some secrets that are still buried and have the fascinating peculiarity of revealing themselves little by little, offering regular archaeological surprises nestled under houses or in the mountains. Excavations are regularly organized in the town along the old Khmer road, which extends to Cambodia.
The town of Champasak became the royal capital of one of three kingdoms born from the split of the Kingdom of Lane Xang (the "Kingdom of the Millions of Elephants") in the eighteenth century, when King Bassac, who was an amateur architect, reigned.
At the time, the settlements became ban ("villages") centred around wats ("temples"). This system has persisted in Laos during colonial history through to the present day.
The architecture of Champasak is marked by these three major historical periods: the vestiges of the pre-Angkorian era, the historical legacy of the monarchy and the more recent constructions of the French colony. The remains found by the inhabitants when digging in the town's soils are carefully classified, analyzed, and recorded.
some possible tours
Around Champasak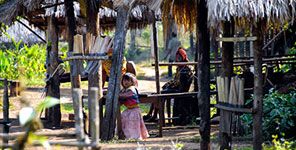 west bank
When you visit Champasak, your pleasure starts along the roads that lead to the town. Sitting 30 kilometres from the provincial capital of Pakse…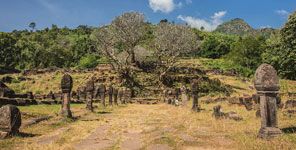 East bank
If you choose to return to Pakse along the east bank of the Mekong, you can take the ferry with your vehicle at Ban Lak Sisip (around 40 kilometres from Champasak).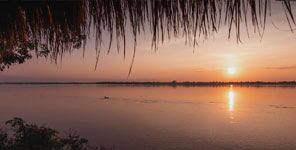 mekong river
It is also possible to go to Champasak by boat from Pakse, either as a group, or by private boat or by a multi-day cruise. Whatever your preference…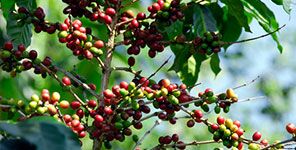 southern laos
Champasak is the ideal starting point to explore the region. From here you can easily reach the 4,000 Islands and Bolaven Plateau, as well as Pakse.