experience southern laos
Production of "Lao Lao" Rice Alcohol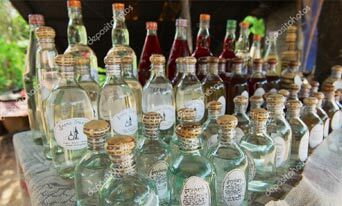 There are two traditional alcohols in Laos: "Lao Lao" or rice alcohol and rice wine in jars, "Lao Hai". Rice alcohol is very popular, and you will notice it hanging in plastic bags in stalls along the roads. Inexpensive and very powerful, it is typically served at weddings, baci ceremonies, or other village gatherings, and he is particularly appreciated older people who consider it a cure for all ills.
The preparation of rice alcohol is usually done before dawn, after the villagers are woken by the crowing of roosters. It is at this time of the day, when the freshness of the night has not yet been dispersed by the first rays of the sun, that the alcohol is best distilled. The traditional preparation is often passed on from generation to generation. During your trip to Laos, explore a new experience as you are welcomed by a local family with their warm smiles and enjoy the privilege of sharing their daily life. Everyone participates in the family economy according to their skills: production of coconut oil, carpentry, sewing or agriculture are some examples.
During this unforgettable experience, your host will lead you through the different stages of Lao Lao preparation: cooking sticky rice, cleaning the surplus starch, the fermentation process using leavening agents, then evaporation in traditional distiller on a powerful wood fire. You will have breakfast prepared by our chefs while enjoying the pastel coloured sunrise over the rice fields with the magnificent mountains providing a wonderful backdrop. Before our departure, you will be invited to enjoy a glass of Lao Lao freshly distilled and you will receive a small bottle as a souvenir. Lao people often change the recipe depending on their preference using medicinal herbs or fresh fruits such as mango, pineapple, passion fruit, banana, coconut etc. and a little cane sugar. Use your imagination to decide on how your want to finish your Lao Lao" which will taste better after a month of waiting.
Estimated time: Around 3 hours
Note: The ideal is to start the activity at dawn, like the villagers, between 5am and 6am and see the sun rise on the rice fields enjoying your breakfast. It is always possible to organize the activity later in the morning. A bottle of "Lao Lao" is given as a souvenir of your experience. The activity is not possible if it is raining.