experience southern laos
Lao Cooking Class:
Traditional Laap Salad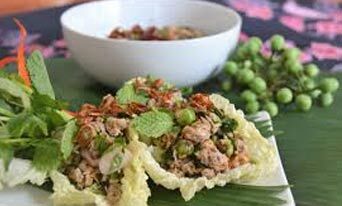 Laap or larb is a pillar of Lao cuisine and is considered by some as the unofficial national dish of Laos. Its variations are numerous, and it can be made with fish, meat, tofu, vegetables but also locusts, tiny freshwater shrimps or red ants!
It can be served raw or cooked, according to personal taste. Each ingredient is minced very finely or ground in a mortar and pestle. It's fun to watch a busy kitchen with the muffled noise of the mortar and the powerful smell of roasted chillies. Fresh herbs, lime, roasted and crushed rice powder, chillies, and various sauces are integrated into laap and give it a rich, fresh and powerful flavour. Gourmets will be delighted by this extraordinary discovery. Like most dishes, laap is served in the middle of the table and shared between diners, who enjoy it with fresh vegetables and sticky rice presented in a woven rattan basket.
During this class, let your senses transport you on an unforgettable culinary journey. Lao cuisine is complex and requires patience, it also reflects the relaxed pace of Lao life, punctuated by the unexpected.
You could easily spend an entire day picking, picking, washing, chopping, pounding and grilling the many foods and condiments used to make meals of exceptional richness. In our Sala on the banks of the Mekong, our chefs will guide you through the different stages of preparation of laap, from the selection of the freshest food to the tasting of this favourite dish.
Estimated time: 1h30
Note: Please let us know in advance if your have any dietary preferences for food allergies.