experience southern laos
Cooking Green Rice "Khao Mao"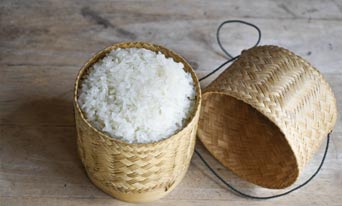 During this cooking class, you will discover one of the many uses of sticky rice in Laos. The seeds called "khao mao" are those that have not yet matured and are harvested from young rice shoots. They are appreciated for their fragrance, nutritional quality and elasticity.
As you will notice during your holiday, Lao cuisine requires a lot of patience and so symbolises the relaxed, unhurried nature of the Lao people. You participate in the preparation of the traditional "khao mao" in the kitchen of a village family, between the crackling fire and to the rhythm of mortar & pestle and machetes. The green rice seeds are first soaked in water for several hours before being steamed in a rattan basket rattan, and then roasted in a wok by mixing continuously for over an hour. Once roasted, the young seeds are allowed to cool and then crushed patiently with the mortar & pestle to separate them from their husks.
The green rice is then bamboo sifted with a delicate hand to separate it from the peels and dust. This last step is repeated several times until the green rice is completely cleaned.
Once the preparation is complete, you can taste the fresh and exquisite green rice with the Lao family who welcomed you and you will enjoy a special and friendly moment of exchanges and laughter that will leave you with many happy memories.
The green rice can also be fried or incorporated into different desserts such as coconut milk or mixed with sugar and red peas.
Estimated time: 3 hours
Note: The activity is not possible if it is raining.