experience southern laos
Fishing with Lao villagers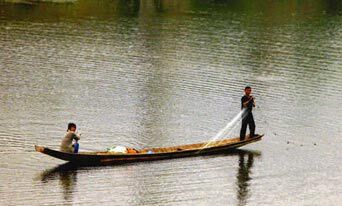 What could be better than time on the mystical Mekong river or the lake in Champasak to savour the soothing tranquility of southern Laos? Let your mind and the lush nature of Southeast Asia become one with the world's second largest ecosystem and one of the largest rivers in the world. Depending on your preferred stle of fishing, you can go head-to-head with a boatman, or accompanied by a local guide discover the traditional fishing technique using a hand-woven nylon net.

The Mekong is a river whose source lies in the Tibetan plateau of China, irrigates Myanmar, and winds between Thailand and Laos, where it forms part of the border. It continues on into Cambodia where an exceptional phenomenon of current reversal occurs during some tides at Lake Ton Le Sap before crossing Vietnam and after 2,000 kilometres ending in the South China Sea. Despite the poer and majesty of the river, its ecosystem is fragile. The many hydroelectric dam projects endanger certain endemic species and the industrial, pesticide and unfiltered water discharges pollute its extraordinary natural diversity, which is nevertheless an essential resource for the millions of villagers living along its banks.

Traditional family fishing as you discover in Champasak is an integral part of a sustainable river balance. At the end of the day, when the sun gets sweeter and the landscapes take on splendid golden hues, the fishermen gather peacefully at the places where the river is low, the water flow fast and where there are numerous fish. For a few hours, you will learn to recognize the different fish that the Lao have many ways to cook.

Your guide will show you the art of throwing the wide net in the water and you can try the experience for yourself: expect to hear soft bursts of laughter at your lack of beginner dexterity. Soak up the joy of life that colours all parts of Lao life and this enchanting moment where time seems to stop.
Estimated time: As long as you wish
Note: We can accommodate this activity according to the time you would like to spend, and we can arrange lunch on the boat. Plan to protect yourself from the sun (hat, glasses, loose clothing and coveralls, sunscreen). If you wish, ask our staff about a barbecue of fresh fish when you return from fishing!
The lake dries at the end of the dry season and river fishing is subject to weather and river conditions.