a culinary experience
Gastronomy
& Culinary Art
Our exquisite cuisine mixes Mediterranean cuisine and the culinary heritage of Laos, with finesse and creativity.
Our chefs use fresh, local products with some of the finest international ingredients.
Almost all the products we offer are made in Soum Noum's kitchen: wood-fired pizzas, fresh pasta and lasagna, freshly made gazpacho, Mock Pa or fish cooked in banana leaves, as well as sticky rice and its traditional sauces combined in a mortar & pestle are but a few examples.
Our seasoned chefs have learned this quality from Spanish, Laotian, French and Indian chefs. The culinary experience is based on classic meals revisited in a refined way, with careful presentation, making it one of the best tables in South Laos.
Choose your spot
SOUM NOUM RESTAURANT
&
MEKONG SALA
View over the Mekong
La sala is a landscaped area with a 180 ° view of the Mekong. It can welcome you from breakfast until dinner and is the perfect place for private candlelit dinners.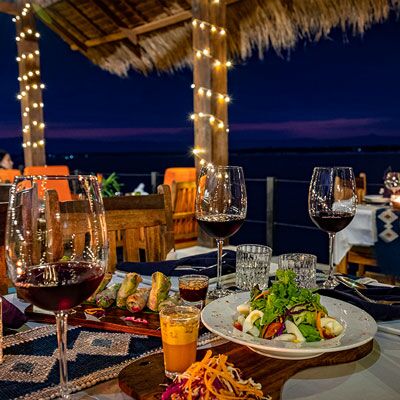 Our Menu
Our chef works with passion to create taste experiences that will make your taste buds on a journey of culinary discovery…
SOUM NOUM Restaurant
Our restaurant staff, elegant and attentive, welcome you in our ancient building dating from the last century which has been tastefully decorated thanks, in particular, to numerous references to the heritage of the region. We offer a high level of service to all our guests.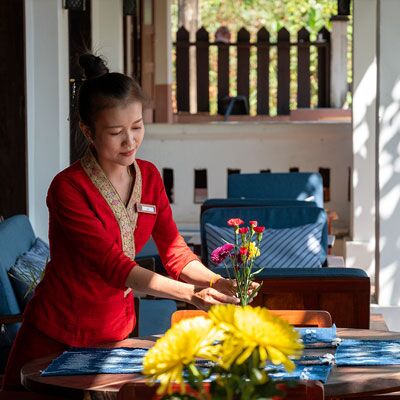 Breakfast
(served all day)
SET BREAKFAST
Sausage, bacon, egg, sauteed mushrooms , baked beans served with bread and homemade jams and butter
French Toast
Served with fresh seasonal fruits
Crêpes
Served with banana & honey
Lao Noodle Soup
Noodle soup prepared with bean sprouts, herbs and fried shallots, with your choice of pork, chicken, fish or vegetarian
Full selection available in our restaurant…

Green Salad
Lettuce, herbs, spring onions, tomatoes, cucumbers and boiled egg.
Olivier Salad
Lettuce, potatoes, carrots, green beans, tuna, olives, capers, eggs and mayonnaise, served with homemade focaccia
Crispy Chicken Salad
Crispy chicken, lettuce, avocados and mangos
Cold Cut Selection
Served with green or black olive, gherkins, cheese, butter and toast
Full selection available in our restaurant…
Creamy Pumpkin Soup
Served with homemade bread
Pizza – Quattro Stagioni
Tomato sauce, ham, mushroom, artichoke, olives, egg, and mozzarella
Pasta – Blue Cheese Gnocchi
Potato gnocchi with a creamy blue cheese sauce
Panini – Classic Ham Panini
Homemade Focaccia bread with mozzarella, cooked ham, tomato sauce, olive oil and basil, served with salad
Full selection available in our restaurant…

Our Homemade Sorbet Selection
Sweet Spring rolls
Caramelized banana and coconut milk
Panna Cotta Basilicum & Lime
Chocolate Fondant
Served with ice cream
Full selection available in our restaurant…