experience southern laos
Discover the manufacturing process of a traditional wooden narrow boat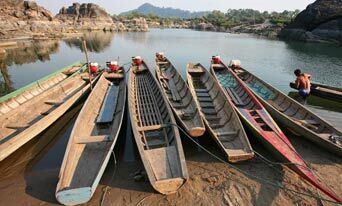 Learning how the traditional wooden narrow boats are made will interest all visitors but especially DIY enthusiasts and is also an opportunity to spend time in one of the beautiful, local villages: Ban Hai. This unspoilt village sits between the Mekong, rice fields and bamboo forests and is a haven of tranquility. The construction of canoes is passed on from generation to generation and the technique demands absolute precision to allow the boat to cross the powerful currents of the Mekong in the rainy season and navigate between the rocks during the dry season.
To reach the construction workshop in Ban Hai, you cycle through lush rice fields. Your host will show you his passion for canoes, the choice of wood and the various materials used, the construction process with traditional tools, through to the maintenance and repair of these beautiful boats. Be inspired by the passion, energy and resilience of these Mekong fishermen. In addition, the warmth of the welcome of the Lao villagers is matched only by the breathtaking beauty of the landscape.
Estimated time: 3 hours
Note: You can combine this discovery with our other boat activities such as fishing with the villagers or the sunset on the Mekong, to fully experience traditional Laotian canoes.