experience southern laos
Sunset on the Mekong by narrow boat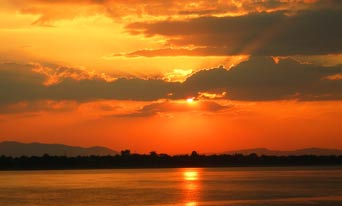 For a few hours, embark on a traditional wooden boat enjoying the soothing rhythm of the water and enjoy the flamboyant colours of the sky at the end of the day on the Mekong.
Navigating this mystical river is an inescapable experience in Laos, and this magical moment, where the powerful heat of the tropics gives way to the sweetness of the night, will leave you with an unforgettable memory. The Mekong River, an emblem of SE Asia and a watercourse of massive, powerful and soothing water, conjures up a majestic spectacle between the sumptuous mountains, the rice paddies flecked with water buffaloes, the sound of the gong of the temples, the fishermen in their canoes, and the dancing lights of the town.
You will enjoy a bottle of chilled champagne and delicate appetizers prepared by our chefs as you are cradled in the oscillating shades of the sun as it disappears below the horizon. This intimate moment is ideal for a romantic getaway or for an unforgettable memory with friends.
Estimated time: 2 hours