experience southern laos
OUR ACTIVITIES
The excursions we offer can be tailor-made to suit your personal preferences. You can choose to ride in a minivan, tuk-tuk or cycle and we offer many ways to explore Champasak and the region enjoying the exceptional landscape and panoramas, leaving you with wonderful memories of southern Laos.
All activities are subject to availability and seasonality.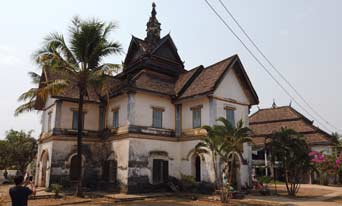 Discover Wat Muang Kang by bicycle
Vat Muang Kang is the oldest active temple active in Champasak, that dates back to the 19th century. Its architecture is quite particular and complex, with Burmese, Cambodian, French, Lao, and Vietnamese influences.
Difficulty:

Follow the ancient Khmer road by bicycle
The monumental ancient Khmer road, which originally stretched from India to Cambodia, crosses Champasak where Vat Phou was a major pilgrimage point. The oldest historical remains of Champasak have traces of more than a thousand years…
Estimated time:
Around 3 hours
Difficulty:

Spiritual journey on the Mekong by wooden boat
From our Sala on the banks of the river, you begin your day in a dugout canoe to visit the many sites that litter the mystical Mekong River.
Your first stop will be the beautiful site of Vat Tomo, a pre-Angkorian temple…
Difficulty:

Discover the mysterious island of the abandoned prison by boat
Nestled between the two banks of the Mekong is the mysterious abandoned island of Don Pakho. In the 1950s, this island was owned by a member of the Champasak royal family, who built a magnificent second home there…
Difficulty: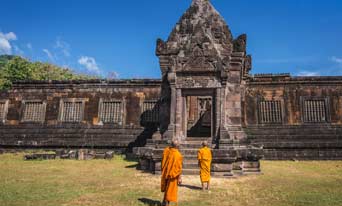 Champasak through the ages
For this multi-day adventure, we suggest combining three of our most beautiful excursions to discover the many facets of Champasak: the ancient Khmer Road by bicycle, the Mekong spiritual journey and the discovery of the mysterious island of the abandoned prison by boat.
Difficulty: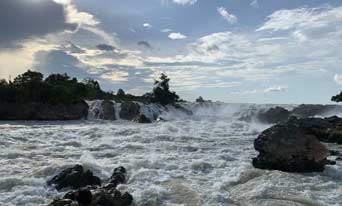 Depending on the programme that we will adapt in line with your wishes and availability, you will drive to discover the area of 4,000 Islands "Si Phan Don" for between 1 to 4 days. The 4,000 Islands are very well named: there are thousands of islands and islets that sit in this part…
Estimated time:
As long as you wish
Difficulty: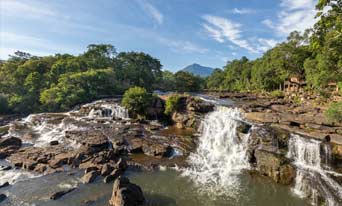 Explore the Bolaven Plateau
The volcanic soils of the Bolaven Plateau are extremely rich and the cool temperatures due to their altitude provide farmers with fertile ground for planting high quality coffee and tea. Some have made coffee an art and a passion. Enjoy an exceptional fresh organic cup of coffee…
Difficulty: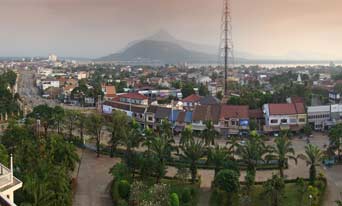 Pakse is a city with a charm all its own and surprising landscapes that contrast with this effusive city, that has developed more slowly compared to its cousins in the north, such as Luang Prabang or Vientiane. The name of the 2nd city of Laos comes from the contraction between "Pâk" (mouth) and "Se"…
Difficulty: