experience southern laos
Explore the Bolaven Plateau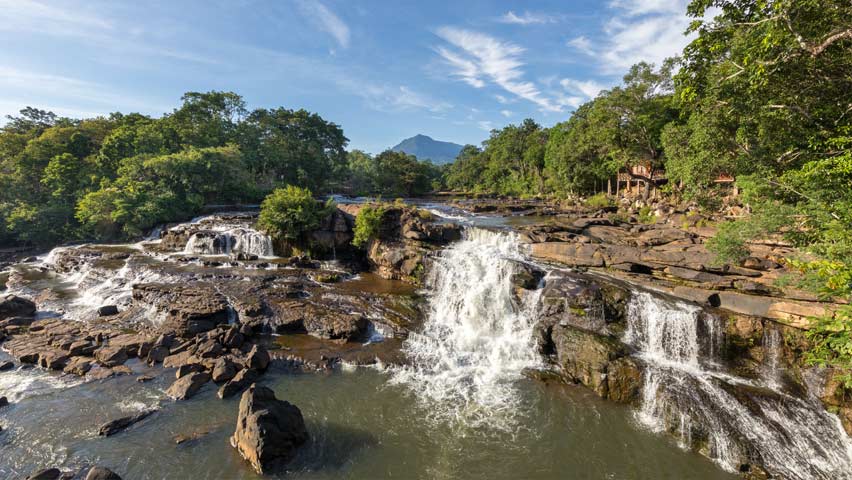 The volcanic soils of the Bolaven Plateau are extremely rich and the cool temperatures, due to their altitude, provide farmers with fertile ground for planting high quality coffee and tea. Some have made coffee an art and a passion. Enjoy an exceptional fresh organic cup of coffee prepared with a unique technique at the Jhai Coffee House in Paksong and meet Vieng, a farmer from the Katu ethnic minority. His smile and his joy of life will leave you with an unforgettable memory. He will help you to discover his coffee plants with enthusiasm before enjoying a freshly hand-roasted cup of coffee.
The Bolaven Plateau, which extends through the provinces of Champasak, Salavanh, Sekong and Attapeu, is nicknamed the "Thousand Cascades" region, as a result of the cascading land levels on the plateau. Some of the resulting waterfalls are breathtakingly beautiful, such as the impressive Tad Fane Twin Falls, 120 meters high and located in the Dong Hua Sao Nature Reserve. Ziplines have recently been installed from the top of the canopy, but the descent is not for the faint-hearted. Other waterfalls lurk all along the Bolaven Plateau loop such as Tad Passouam, tastefully landscaped, or the splendid Tad Nyueang.
The plateau is the perfect place for hikes in the lush nature of Laos. The mysterious site of Tad Tayecseua and the exceptional Mystic Mountain offer spectacular landscapes and unforgettable experiences.
Bolaven is named after the Laven ethnic group. This region of southern Laos is indeed populated by many ethnic minorities that you can meet during this adventure. Each of these minorities specializes in hand weaving with their own colors and patterns. Our guide will take you to meet them and you will be able to get fabrics of a finesse and an exceptional beauty.
You visit the Bolaven Plateau from Champasak by car, and we will accommodate it at the time you wish.
Estimated time: Between 1-4 days
Note: The climate on the plateau can be rainy or very cool in the evening and during certain times of the year, plan warm clothes. During the day, the temperatures are warm and think of protecting you from the sun. For the visit of the traditional villages, cover your shoulders, cleavage and knees. Plan on comfortable shoes.