experience southern laos
4,000 Islands Getaway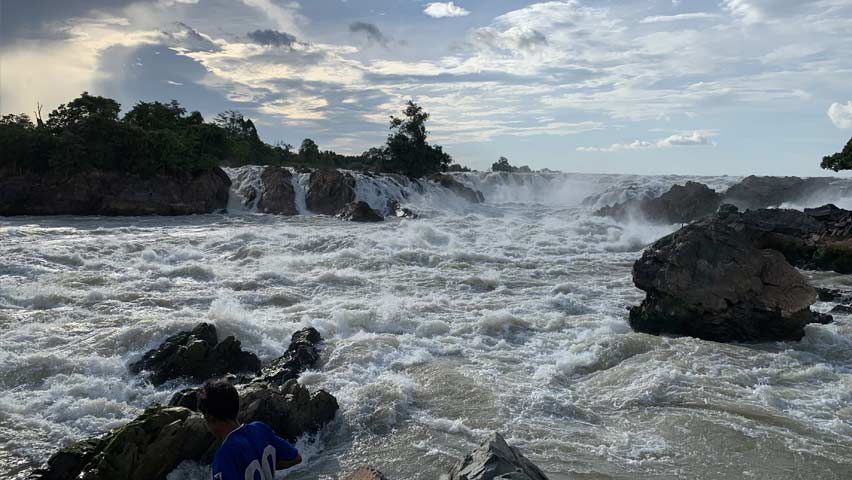 Depending on the programme that we will adapt in line with your wishes and availability, you will drive to discover the area of 4,000 Islands "Si Phan Don" for between 1 to 4 days. The 4,000 Islands are very well named: there are thousands of islands and islets that sit in this part of the Mekong River next to the Cambodian border. Many of them are still virgin and wild and only the two main islands are populated and particularly interesting to visit: the island of Don Det with its restaurants, bars and lively evenings, connected in the south by a charming bridge dating from the colonial era, and the island of Don Khon, quieter, ideal for walking and cycling and to discover the few tourist attractions in the area.
The fauna and flora of Si Phan Don are exceptionally rich, but their ecosystem is fragile. It is here that the last few Irrawaddy river dolphins are found. This rare river dolphin has been near extinction for some time and only a few found refuge near the mangroves south of Don Khon. You take a wooden boat in the late afternoon and try to spot these elusive creatures in their natural habitat of the Mekong. It's a magical and emotional moment that will leave you feeling full and united with nature.
It is also on the island of Don Khon that you will find the impassable rapids and the tumultuous waterfalls of Li Phi. The most adventurous of you may wish to take the ziplines that run for 1.5 kilometres over the falls. This particularly powerful stretch of the Mekong is a natural barrier for canoes and ships, and French settlers began to build a railroad to organize the transport of goods on the islands. You will find an old locomotive of the time and some remnants of railroad tracks.
If you would like to visit the 4000 Islands, we generally recommend the discovery of Don Khon and Don Det, with a walk to the falls of Li Phi and time trying to see the Irrawaddy River Dolphins. You leave Champasak by car, which drops you at Nakassan, to reach the pedestrian islands by wooden boat. It is possible to ride there by bicycle or motorbike or discover them from the Mekong by boat. Ask our travel desk about organising a tailor-made programme. The 4,000 Islands are the perfect place to enjoy the Mekong River, a mystical and soothing river, symbol of South East Asian beauty.
Estimated time: 1-4 days
Note: The climate in the 4000 islands is generally warm and tropical. Plan to protect yourself from the sun (hat, sunscreen, loose clothing).