experience southern laos
Discover the mysterious island of the abandoned prison by boat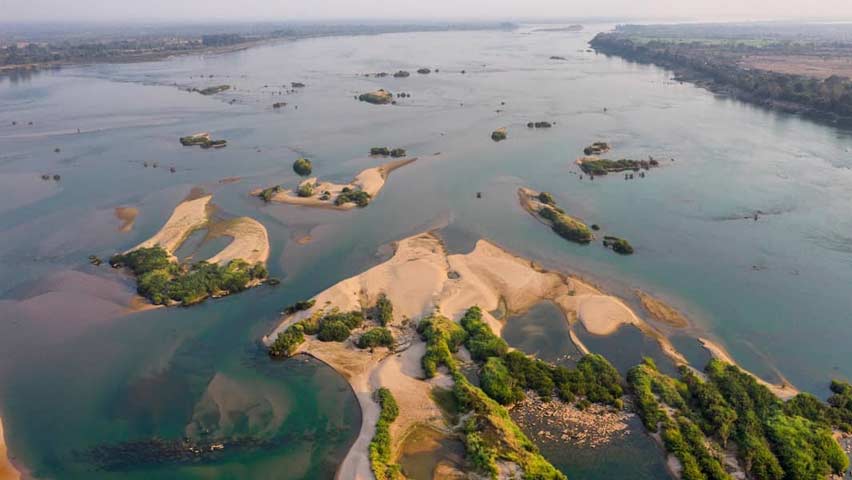 Nestled between the two banks of the Mekong is the mysterious abandoned island of Don Pakho. In the 1950s, this island was owned by a member of the Champasak royal family, who built a magnificent second home there, with a lush garden of exotic fruits such as cane sugar, bananas, coconut, and scented mangos. During the communist revolution of 1975 and the overthrow of the monarchy, the palace was transformed into a prison and re-education centre.
Here, about fifty inmates learned how to weave sticky rice baskets "kathip khao", or were re-educated through various activities. The centre was closed about ten years ago after a terrible accident that upset the villagers of the area: two inmates tried to escape crossing the Mekong but lost their lives drowning in its currents. The building has been abandoned since this event. Metal, wood and other valuable materials have been looted, but the impressive structures and atmosphere of the island give it a very special aura.
You leave our hotel, taking a traditional wooden boat and marvel at the unparalleled charm of the Mekong. You anchor on one of the banks of Don Pakho island and take a path into the forest. Your guide can help you spot the many tropical fruit trees on the island and other edible species. You may come across the road of birds, chameleons and other animals, in this place where the fauna and flora have regained their rights. You pass a small altar dedicated to the spirits where the villagers make prayers and offerings.
Behind the altar, you discover the old palace which became a prison: its main building probably served as administrative office, and, just behind, the cells of the prisoners. It seems that this isolated island is now used as a place of relaxation for some teenagers as there is some graffiti on the walls of the prison. Continuing through the thickets, a real guessing game can begin with the various scattered remains of concrete, pillars and abandoned bathroom fittings. Have fun trying to unravel the mystery of this intriguing island.
After your walk, we take a picnic lunch on the island before taking the boat back to our hotel.
Estimated time: 6 hours
Note: Plan for comfortable clothes and sun protection, as well as closed shoes and long pants for walking in the forest & ruins.