experience southern laos
Spiritual journey on the Mekong by wooden boat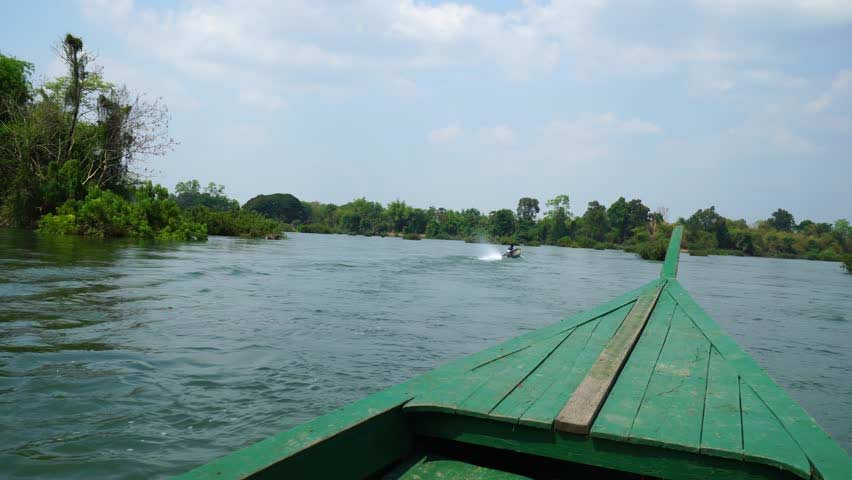 From our Sala on the banks of the river, you begin your day in a dugout canoe to visit the many sites that litter the mystical Mekong River.
Your first stop will be the beautiful site of Vat Tomo, a pre-Angkorian temple nestled in the forest. In a similar architectural style to Wat Phou, its construction began in the 7th century. The temple was later rebuilt between the 11th and 12th centuries, but there are few traces of this ancient core of human activity. The ruins of Tomo are however both aesthetic and intriguing and you can see beautiful sacred and classified trees along the temple.
From Vat Tomo, you continue your trip on the Mekong to the beautiful island of Don Daeng, where enjoy a picnic lunch. This mysterious island on the Mekong River faces Champasak. Peaceful and car-free, it stretches for 9 kilometres and is 3 kilometres wide. The island is lined with deserted beaches with white sand where you can stroll and bathe in absolute calm. You will probably meet some fishermen, water buffaloes and children playing. The view of the Mekong is scenic, with beautiful mountains including the famous Mount Phou Khao in the background and many small trails to explore.
Your river adventure continues on to Vat Phanon Sim and the Vat Muang Kang bookstore. Vat Muang Kang is one of the oldest active temples in southern Laos, dating back to the 19th century. Its architectural style is quite particular and complex, with Burmese, Cambodian, French, Lao, and Vietnamese influences. The site includes a house that contains sacred texts and is the only building of this style still standing in Southeast Asia.
You make a last stop at the amazing Champasak Church: The Holy Name of Jesus Christ, which is the first of its kind to have been built in Laos before returning to our hotel in the beautiful landscape of the Asian sunset over the Mekong. Enjoy these last moments of the day with the soothing rhythm of the water and the spectacle of the flamboyant colours that repaint this mystical river and sky, bordered by the splendid mountains.
Estimated time: 8-9 hours
Note: Remember to protect yourself from the sun with a hat or cap, sunglasses and sunscreen. When visiting traditional villages or temples, consider wearing loose and comfortable clothes that cover your knees, shoulders and cleavage. Also plan for comfortable shoes.
The excursion may not be possible during the rainy season.